Dimona via webservice integrated in FIT platform
Betrust has integrated Dimona Via Webservice into the FIT platform.
The FIT platform is a contract management or document-transaction platform where employees prepare, share and follow up documents from within one application.
The one application approach avoids existance of different version of documents, loss of (signed) documents and faster signing of documents.
With this integration Dimona declarations can automatically be created and send to Dimona when an employee contract is created.
All types of Dimona declarations are supported: IN, OUT, UPDATE, CANCEL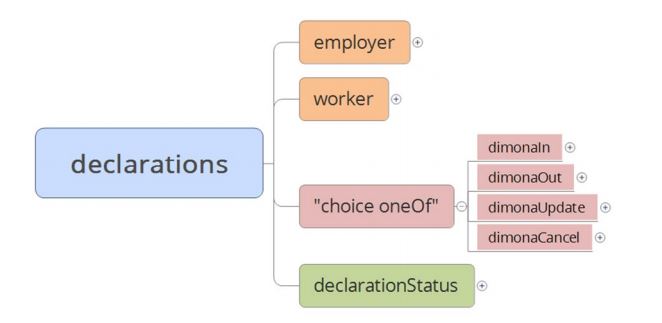 Fig.1 - Dimona declarations
About Dimona
The Dimona (Déclaration Immédiate / Immediate Declaration) is the electronic message by which the employer reports every employment and employment of an employee to the RSZ.
Via the online service Dimona you can:
indicate that an employee is employed;
indicate that an employee is leaving employment;
indicate that an employee works longer or shorter than expected;
Your benefits...
Avoid tedious and manual retyping of contract data when declaring Dimona via the online Dimina website or App
Integrate the contact generation and Dimona declaration in one operation
No chance of deviation between dimona declaration and contract data.