Sign PDF documents on your iPad...
We continuously innovate in order to reduce your administrative expenses.
Our new application allows you to fill out and sign PDF documents with the electronic identiy card (eID) on your iPad.
The card reader is small, convenient to carry and can be easily clicked into the iPad.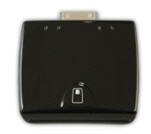 This makes it possible for anyone to sign PDF documents on the road or at the office.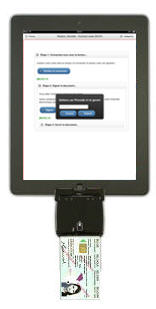 Our services immediately incorporate your signed and completed PDF documents in your application (ERP, CRM, accounting software, etc.), without losing any data.
Furthermore, PDF documents can be easily shared with several people.
In addition, your company can automatically sign as well when the customer (or more parties) has (have) signed.
This new application is integrated in the new App MyContracts , which will be discussed in the next Newsletter
Your benefits ...
Easy to sign a document on your iPad (on the road or at the office).

The signed document and all rendered data are immediately redirected to your ERP system.

Reduce your administrative expenses!
It is not longer necessary to process documents afterwards (typewrite data, scan and file PDF documents ).

Your data is correct!
By using our services, you avoid wrong data in your EPR due to typographical errors.