MyContracts: The iPad App for your field employee
Betrust launches MyContracts, a ready-to-use App for iPad that offers your employees an immediate overview of all PDF documents that needs to be signed or completed.
MyContracts is ideal for:
Sales employees

Front Office employees

Brokers

Agents

On-the-road technicians

...
No more lost time like printing out PDF documents in order to sign them, double checking afterwards, scanning, organizing and/or classifying.
The Betrust Secure Signing Platform immediately forwards PDF documents to the right employee, who receives online and in real-time an overview of all PDF documents to be completed or signed.
Once logged in, an overview of all PDF documents ready to complete instantly appears.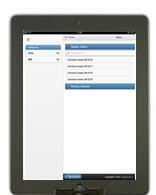 A few simple clicks and your document is ready to be signed or completed.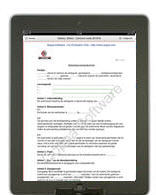 PDF PDF documents can be signed :
With your electronic ID card , by using a smart card reader which can be connected to your iPad - see

previous

newsletter

With a simple 'manual' signature (with or without stylus) directly on your iPad (the signature and possible characteristics are integrated in the document).
Our services can immediately process your completed and/or signed PDF documents in your application (ERP, CRM, accounting software, ...), without any loss or incorrect data.
Moreover, PDF documents can be shared by multiple employees .
In addition, your company can automatically sign as well (automatically) when the customer (or more parties) has (have) signed.

Your benefits ...
Your employee has always access to an up-to-date overview of unsigned and incomplete PDF documents.

The signed document and all rendered data are immediately redirected to your ERP system.

Reduce your administrative expenses
It is no longer necessary to process documents manually (typewrite data, scan and file PDF documents ).

Your data are correct!
By using our services, you avoid wrong data in your EPR due to typographical errors.